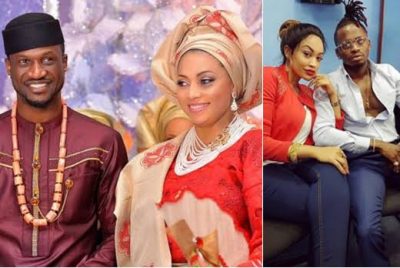 Tanzania's most popular musician, Diamond Platnumz has accused Peter Okoye, one of the P-Square brothers of sleeping with is wife, Zari, which eventually led to the end of their marriage.
Diamond as he is famously known and addressed made the accusation in an interview with his radio station, Wasafi FM that Peter Okoye, now known as
Mr
. P after he discovered the immoral affair between Zaria and Mr. P, he had to end the marriage which produced a child.
However, in a swift response denying the allegation, Zari did not only debunk the allegation but named Diamond a pathological liar. She said; "I was about to sleep and people started sending me these voice notes about how Nasibo (Diamond Plantnumz) went to his radio tarnishing me, how i had a relationship with P-square, my personal trainer and all those things. And I'm just here thinking if you guys are gonna believe any words that come from a man like him, the same man who denied his own blood.
"If you all are gonna believe anything he say, then you all are just stupid just like him."
Peter Okoye (Mr.P) is married to Lola Omotayo and they both had two kids, Cameron and Alliona.