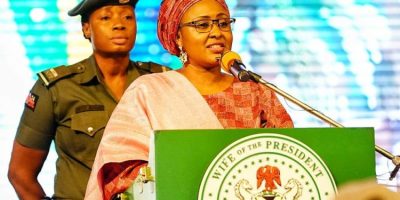 PRESIDENT Muhammadu Buhari has approved the appointment of new aides for the First Lady, Aisha Buhari.
A statement by the Director of Information to the First Lady, Suleiman Haruna, said the appointments were with immediate effect.
Those appointed are: Dr. Mairo Almakura – Special Assistant (SA) on African First Ladies Peace Mission (AFLPM); Muhammed Albishir – Special Assistant on Organisation of African First Ladies for Development (OAFLAD); Wole Aboderin – Special Assistant on Non-Governmental Organisations; Aiyu Abdullahi – Special Assistant on Media and Publicity; Zainab Kazeem – Special Assistant on Domestic and Social Events and Funke Adesiyan – Personal Assistant on Domestic and Social Events.
Mrs Buhari on Wednesday apologised to her children, family and well-meaning Nigerians over the embarrassment the leaked videos had caused.
She was reacting to the viral videos about her on social networks while hosting governors' wives at the Presidential Villa in Abuja.
In one of the videos, Mrs Buhari lashed out at the Mamman Daura family, angrily saying they should pack out of the Villa.
The President's wife expressed her resolve to build a regional secretariat for the African First Ladies Peace Mission (AFLPM).
The mission, which was established after the Beijing Conference of 1995, has been in the custody of Nigeria, with leadership rotating among African first ladies.
In a statement by her Director of Information, Suleiman Haruna, she said: "I have successfully secured 2.7 hectares of land in Abuja for this purpose and the foundation-laying will soon be conducted in the presence of African first ladies."
On the advocacy project for the improvement of maternal and child health, which is supported by the Bill and Melinda Gates Foundation and implemented by Future Assured Programme in partnership with governors' wives, Mrs. Buhari said it would hold in December.
She hailed the governors' wives for their various projects in the states and their collaboration with Future Assured.
Borno State governor's wife, Mrs. Falmata Umara Zulum, who represented Northern First Ladies' Forum and Mrs. Betsy Obaseki, who represented Southern First Ladies' Forum, said they were at the Villa to welcome her back.
They expressed their loyalty and support for her initiatives, especially through the Future Assured Programme.The event was attended by wife of the Vice-President Mrs. Dolapo Osinbajo, wife of the Senate president Mrs. Maryam Ahmed Lawan, and wife of House of Representatives Speaker Mrs. Salamatu Gbajabiamila, as well as wives of governors and lawmakers


Below is a video that was taken at the airport during her arrival;