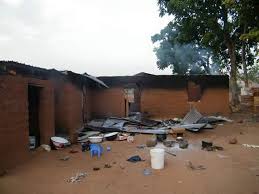 Sunday 5th January 2020 was a black Sunday for indigenes of Munya Local Government of Niger state as Some unknown heavily armed gun men attacked some villages in Munya Local Government Area which includes Igu, Kabula, Liwi , Zazanga. This attack on Munya LGA came after the bandits had destroyed lives and properties in some Chukun LGA villages (Zhigbedo and Palau) of Kaduna State. Its been reported that that the attack was severe in Munya LGA. Villages in Munya LGA couldn't attend church service as everyone ran for his or her life for safety. Genuine sources reported to us that some Nigerian military men who were on patrol from sarkin pawa to Igu coincidentally met the heavily armed huge unknown gun men but very unfortunate that the Nigerian soldiers were defeated and over powered. Four soldiers were killed, military truck burnt down and military weapons were taken away the unknown gun men. Efforts were made to have the army and the police rescue team come for rescue but no response from the army nor any other security force. Reports have it that the unknown gun men settled at Old kabula primary school Sarkin Pawa district. Reports also have it that these unknown gun men were riding on more than 30 motorcycles speaking Fulani and French. The unknown gun men were more than hundred in number.
Indigenes of Munya Local Government have over a period of time being experiencing unrest as a result of incessant attacks from unknown gun men, series of kidnapping, killing residents and destroying properties but there has been no positive response from the state government no federal government not even from the security forces. Situations gets worse and everyone seems to be giving deaf ears to that region. The situation seems more like terrorism and the media are not paying attention to those areas. No reasonable step have been taken even the Niger State Governor. The Munya LGA indigenes are left alone to die.
Its important to use this medium to call on all stake holders, government officials, security agencies to without delay come to the aid of Sarkin pawa district in Munya LGA and her surroundings to avert what might later become a nightmare to Niger State, middle belt and Nigeria as a whole.
CC:IAMBESTNETWORK