Spotify's partnership with FC Barcelona is birthing another exciting moment as the streaming giant shares new playlists curated by two of the football club's star strikers, including Nigeria's own Asisat Oshoala.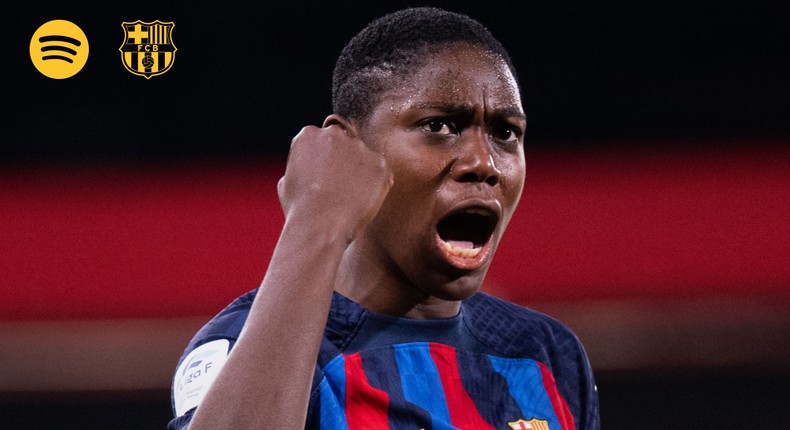 Spotify is continuing to bring the FC Barcelona partnership onto the platform creating a direct link between players, fans and the music they love. Fans are now able to listen to Matchday playlists from both the men's and women's teams which showcase the music selections that motivate and inspire the players to perform on game day.
Following Pedri and Alexia Putellas' playlists, star strikers Robert Lewandowski and Asisat Oshoala have created their own playlists with music they like to listen to ahead of matches. The two playlists will be accessible on the FC Barcelona official Spotify page as My Matchday Songs by Lewandowski & My Matchday Songs by Oshoala.
Fondly known to Nigerian and Barcelona Femeni fans by her nickname, "Agba baller", Oshoala is one of the most exciting strikers from the continent and recently crossed the 100-goal mark in her career.
Speaking on her song choices, Oshoala said: "I really enjoyed sharing my passion for music with this playlist. I hope our fans will enjoy the music and feel what it's like to be among the players as we get ready to represent the club."
Speaking about the collaboration, Marc Hazan, VP Partnerships, Spotify said: "We are delighted that fans can immerse themselves in the music selections of the FC Barcelona players, this time with Lewandowski and Oshoala. Music has always been a huge part of football culture and this next stage in our partnership is a fantastic way for fans to feel closer to the players through their track choices on matchday and beyond."
You can listen to the Matchday song playlist by Asisat Oshoala here.
Pulse-ng