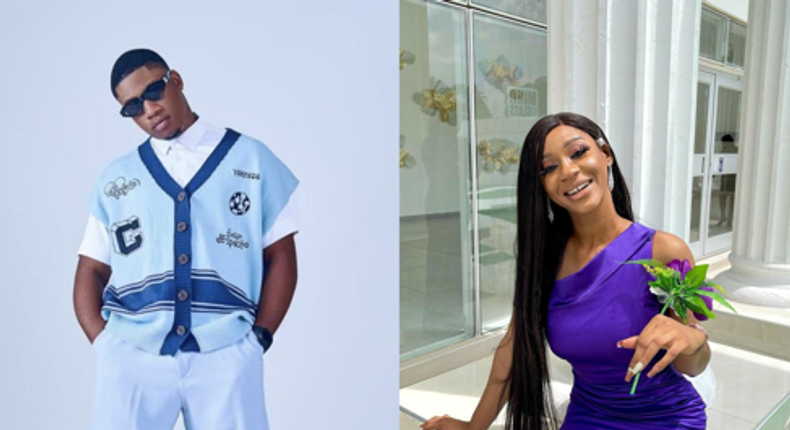 The rise of TikTok has brought in a new era of young stars who are taking the platform by storm.
During the COVID-19 pandemic and lockdown three years ago, people all over the world turned to online content for entertainment at an unprecedented rate—anything to keep them from becoming bored.
Screen time increased as a lot of current users and eventual TikTok stars made the most of the stay-at-home phase to create amazing content that changed their status forever.
TikTok quickly became the ultimate platform for easily catapulting talented Nigerians into the spotlight and giving them a chance to showcase their creativity on a wider scale.
From lip-syncing to bomb transitions to comedy skits, here are 10 young Nigerians who are dominating TikTok, captivating their audiences, and making a name for themselves in the entertainment industry:
1) Beauty Goddess
Meet @beeautygoddess, also known as John Merry, a TikTok sensation that has earned a reputation as one of the most talked-about TikTokers with her consistent content, which includes trendy dances, transitions, and more.
She also uses her platform to promote other brands, making her a go-to influencer for businesses.
Beauty Goddess was awarded the "Influencer of the Year" title by Pulse in 2021. With a massive following of 3.4 million, John Merry has captured the hearts of the TikTok community and is showing no signs of slowing down. Keep an eye out for her exciting content that is sure to keep you entertained!
2) Berby Picxy
With a whopping 8 million followers, @berby_picxy, aka Madukor Chisom Faustina, is one of the most followed Nigerian celebrities on the platform. This multi-talented young star is a content creator, dancer, and model who brings all her skills to TikTok and entertains her fans with hilarious content.
Berby is known for hopping on trends and creating consistent content that keeps her audience engaged and coming back for more.
3) Softmadeit
Meet one of the biggest dancing sensations on TikTok, Jerry Chuks, known mainly as @sofmadeit. With a massive following of 4.1 million, Soft has captured the hearts of millions of fans with his incredible dance moves and infectious energy.
While Soft is well-known for his many collaborations with fellow TikTok star Beauty Goddess, the two have always denied being in a relationship, stating that they are focused solely on content creation.
Their rumoured relationship has only added to their popularity, bringing in more followers and publicity. Soft is verified on TikTok and has worked with numerous brands.
4) Jenni Frank
Onyekwelu Jennifer Ebere, popularly known as Jenni Frank, rose to fame in 2020 with her viral slow-motion challenge video. Her perfect lip-syncing skills and impressive dance moves have earned her a huge following on Tiktok, with over 3.8 million followers.
She is known for diversifying her content and hopping on the latest trends, keeping her fans engaged and entertained.
She has become one of the most popular young celebrities on Tiktok, known for her captivating and sometimes heartfelt videos.
5) R0dn3y
"The Wisdom Man," as he is fondly called by his fans, is another very talented Tiktoker. Rodney Odinakachi Umeh, popularly known as @r0dn3y on TikTok, is a Nigerian content creator and comedian who creates relatable and hilarious videos about his childhood experiences.
He is known for his impressive ability to take on different characters and deliver unexpected "wise words'' that keep his followers entertained, which is why he is called the wisdom man.
It's no wonder he has amassed a whopping 5 million followers on his verified TikTok account, making him the second most followed TikToker in Nigeria.
6) Itzzammie
Ammie, also known as Amarchi, is a TikTok star famous for her emotional content. She gained popularity in 2020 by consistently producing videos that her fans loved. Ammie is well-known for her beautiful smile and stunning looks.
Her content is diverse, ranging from lip-syncing to incredible transitions. The Tiktok star is also a trendsetter, frequently hopping on trends and setting new ones. Ammie has a following of 3.3 million.
7) Berylama
Anozie Chiamaka Beryl, known as @beryl.ama on Tiktok, is a rising star known for her comedic content. She won the hearts of her followers with engaging and hilarious videos, and she diversifies her content by incorporating transitions and hopping on trends.
In addition to her success on Tiktok, Beryl is also a businesswoman who uses her page to advertise her hairline and promote other brands. She has a following of over 2 million followers on the platform.
8) Kloesgram
@kloes_gram is known on TikTok as the "Queen of Transitions." Her content primarily features impressive transitions and dance videos. She is also recognised for creating and setting trends for her followers to participate in. She has amassed a following of 1.9 million on the platform.
9) Jude O.C
Jude, the animator on TikTok, has made a name for himself with his hilarious animations. His TikTok videos have amassed an impressive 44.4 million likes, making him a star in his niche. While little is known about his personal life, Jude keeps his fans thoroughly entertained with premium comedic content.
He is yet to do a face reveal, but his followers don't seem to mind as they are satisfied with the quality of his content. With a massive following across platforms, Jude has over 2.5 million followers on TikTok alone.
10) Purple Speedy
Peace Anpee, popularly known as @purplespeedy on TikTok, is a talented dancer and content creator. Although she initially struggled to gain attention on the platform during the lockdown in 2020, she made a comeback in 2021 with amazing dance videos that brought her to the limelight.
She is rumoured to be in a relationship with another TikTok star and dancer, @crispdal, and they often collaborate on dance and relationship content.
Purple Speedy has amassed a following of three million on the platform and continues to grow her audience with her captivating dance moves and engaging content.