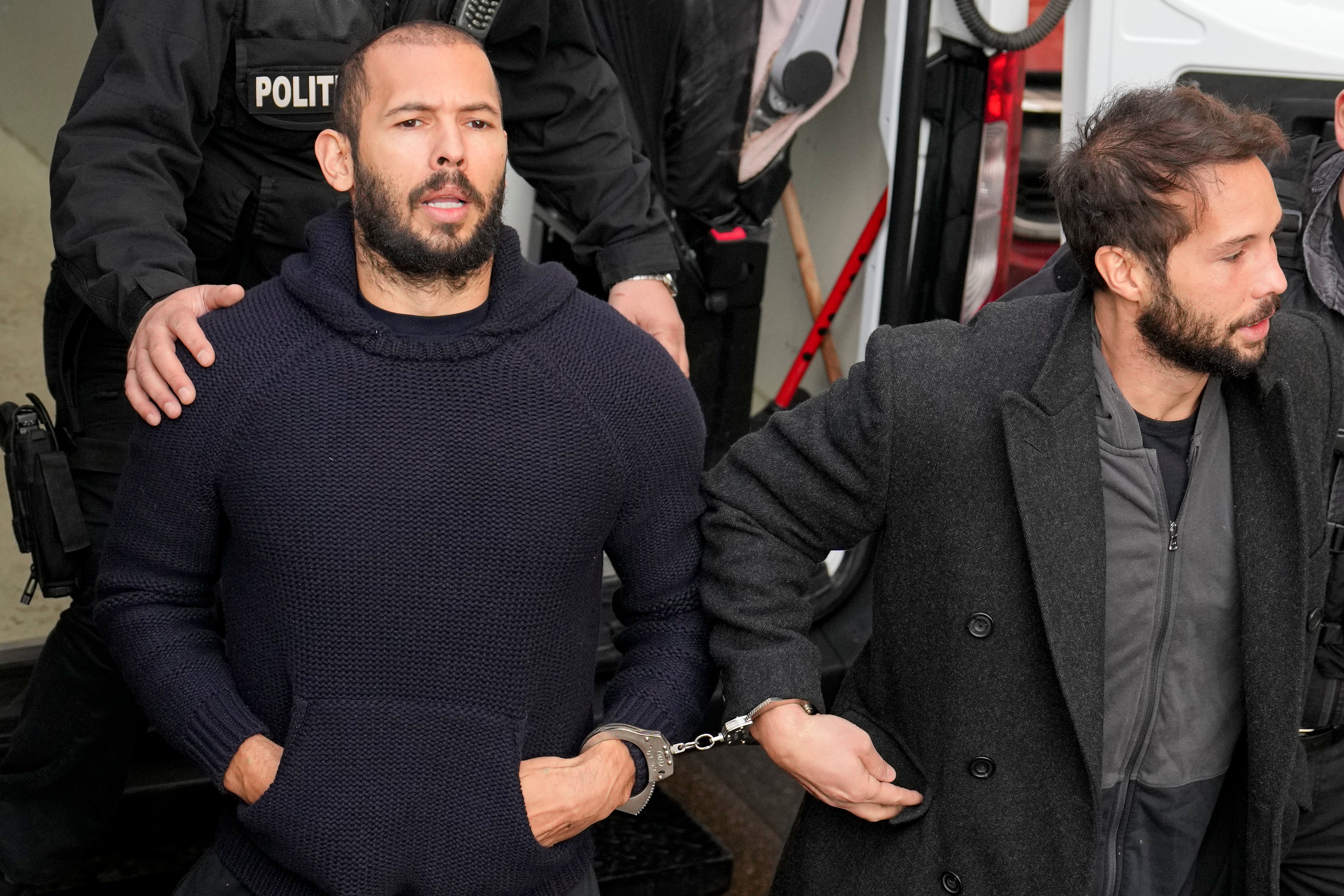 Internet celebrity, Andrew Tate and his brother Tristan have lost their appeal against a Romanian court's decision to deny them bail and keep them behind bars on sex trafficking charges.
Tate, 36, was arrested on December 29 in Bucharest along with Tristan and two Romanian women on suspicion of human trafficking, rape, and forming an organised crime group to exploit victims.
Earlier this month, all four appeared at a bail hearing which Tate hoped would result in him being released from prison and placed under house arrest after nearly three months behind bars. But that bail application was rejected by a judge and all four appealed the decision.
On Wednesday March 29, a judge rejected their appeal against the decision to deny them bail, Tate's spokesperson told MailOnline.
Last week, Tate and Tristan said they were 'speechless' after a Romanian court decided the misogynistic influencer must remain in prison for another 30 days on sex trafficking charges.
A judge granted prosecutors a fourth 30-day extension on their arrest on 22 March, meaning all four - the Tate brothers and Luana Radu, 32, and Georgina Naghel, 28 - will remain in custody until April 21, Tate's spokesperson told MailOnline. None of the four have yet been formally charged.
Tate and Tristan slammed the judge's decision last week, and said their image has been 'irreparably harmed' by the Romanian criminal justice system while insisting it will 'take years to rebuild' the reputation.
Their spokesperson told MailOnline at the time: 'The court has decided to extend the Tate brothers' preventative arrest. We have been rendered speechless by the news.
'The interaction with the judge was extremely dynamic and the brothers were offered for the first time the opportunity to present all legal guarantees that they are not a flight risk,' they said.
'They are the first ones who want light to be shed on this case. The substantial material damages they have suffered are nothing compared to the moral ones.
'Their image has been irreparably harmed and it will take years to rebuild the reputation, trust and connection with the general public.'
The brothers will be appealing against the decision to extend their detention by 30 days. That appeal will be heard on Friday.
Last month, Tate, who is accused of recruiting young women and forcing them to create online pornographic content, lost another appeal against a judge's earlier decision to extend his arrest for a third time.
A document explaining an earlier decision to keep them in jail said the judge took into account the 'particular dangerousness of the defendants' and their capacity to identify victims 'with an increased vulnerability, in search of better life opportunities.'
The prosecution can continue to request detentions for 180 days in total, meaning that if the judge continues to extend his arrest period, Tate will not be released from prison until at least 27 June.
Prosecutors have said the Tate brothers recruited their victims by seducing them and falsely claiming to want a relationship or marriage.
The alleged victims were then taken to properties on the outskirts of the capital, Bucharest, and coerced to produce pornographic content for social media sites that generated large financial gain, prosecutors said.
LIB