With Yemi out of the way, looks like the Khosi and Miracle ship finally stands a chance.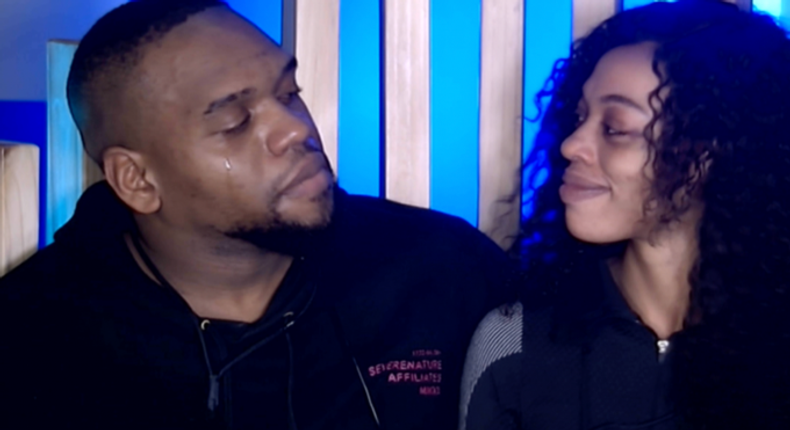 This week is off to an exciting start after Big Brother announced the end of paired housemates.
Next, he summoned them to the diary room for their last session as a pair where the housemates got the opportunity to partners for the last time.
Miracle Op and Khosi, formerly known as Khosicle, took the chance to declare their love for each other.
Tearing up, Miracle said, "You always had my back. I can honestly say I love this woman here."
Khosi responded in a similar vein saying, "I think I am ready for marriage after being a partner with Miracle OP."
The pair have been in an on-and-off situation as a result of Yemi Cregx's presence in the housemate but with the latter out of the way, maybe this two will finally have the chance to be together.
Housemates shed tears during diary session
Like Miracle, other housemates shed tears as they appreciated their partners. Justin and Yvonne (Juvone) kicked things off with high emotions, as they thanked each other for holding each other down no matter what.
Next, Ebubu and Tsatsii (Royals) had their turn with the pair talking about last week's mistake. "If you win, it's with your partner. If you make a mistake, it's with your partner, " Ebubu said.
Nana described Thabang as the safest person to run to in the house while he admitted to feeling separation anxiety now that he no longer has a partner.
Blue Aiva and Kanaga Jnr (Kaniva) got teary as they remembered how they slayed challenges like ninjas. They vowed to continue to nurture a friendship while making big moves outside the house.
Blaqboi and Ipeleng (Blaqleng) went in last for their last diary session as a pair. Blaqboi told Ipeleng that she is so much more than what she thinks. She reminded him that so many people outside are proud of him.
Moving forward, all the housemates will be competing individually for the grand prize of $100,000. The show will end on April 2, 2023.
pulse-ng