From their impact on popular culture to their unwavering commitment to family and their industry, these women have served as powerful role models for young women around the world.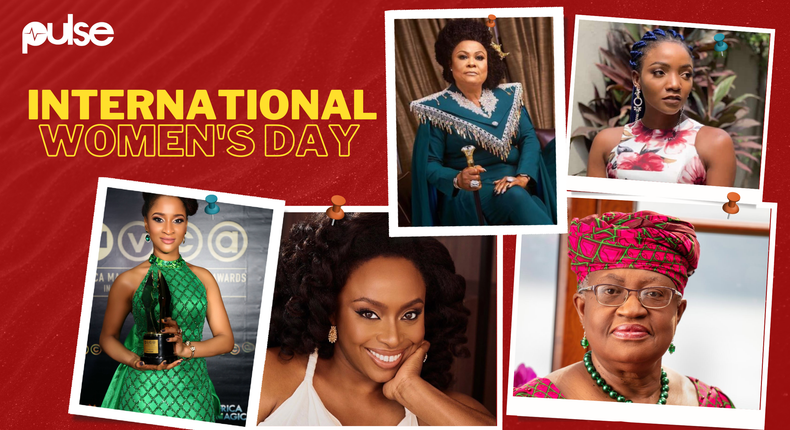 On International Women's Day, we celebrate the incredible achievements of women from all walks of life. From trailblazers to the up-and-coming ones, these women have shown time and time again that they are capable of achieving greatness in any field.
To honour this day, we decided to ask seven young ladies about the female celebrities they look up to and why. Join us as we dive into their stories and discover what makes these women such powerful sources of inspiration.
Side note: Read this article to the rhythmic dictates of 'Respect,' by Aretha Franklin.
Ololade - Chimamanda Ngozi-Adichie
Ololade admires the veteran writer because she has used her platform to raise awareness about the plight of young women.
She said, "She has made a significant impact in the literary industry, not just in Nigeria but globally. She has used her platform to speak out on important issues such as gender inequality and mental health, empowering and inspiring young women around the world. Her work and success serve as a powerful reminder that women can achieve greatness and break down barriers in any industry they choose."
Ajijola - Sola Sobowale
According to Ajijola, she loves the veteran actor because she has been able to strike a perfect balance between her work and personal life, earning her the bragging rights to be called a successful celebrity.
In her words, "I look up to a lot of Nigerian female celebrities, but there's one particular person I grew up watching and have always loved. I studied her personal life, and she was the only one I noticed who was able to strike a balance between her career and personal life. A successful celebrity, a successful wife, and a successful mother,
"Sola Sobowale, after making a name for herself during her youthful days and early adulthood, went on a break to focus on her personal life, came back, and bounced back stronger than before. It was like she never left, and now she's one of the best actresses, even in her old age. Though I don't plan on taking a long break from my career, I would love to create the perfect balance between my personal and professional lives. That woman is a goddess on her own. She is versatile, and she has managed to pave her way from the Yoruba industry to the Nollywood industry as a whole. I love Sola Sobowale."
Itunu - Lota Chukwu
This filmmaker defines this young lady, even in a matter of looks, but her love for the filmmaker trickles down to her character and the simplicity that comes with her being.
Explaining her love for the filmmaker, she said, "The Nigerian female celebrity that I look up to is Lota Chukwu, and the reason is that I love her charisma and the fact that she has learned to focus on the things that are going well and less on the things that do not go as planned. She said it one time: that she deserves every good thing coming her way because she worked and works hard for it.
She doesn't dress too much. Her dress depends on the occasion. Sometimes you will find her wearing a simple T-shirt and jeans, and at other times, she wears gorgeous gowns. She is a calm and talented person. She has proven herself to be smart, beautiful, and successful. She's the type of woman who knows exactly what she wants. She's just keeping things low-key, no one knows what's going on with her. Not like all these ones wey go dey drag themselves up and down for Instagram."
Dunsola - Simi
Dunsola loves the beautiful singer because her songs are uplifting and cause her to reflect on her life, and also because of how she is with her family.
Speaking about her, she said, "The only celebrity I look up to today is Simi. I like her music because it is always inspirational and relatable. Every time I listen to some of her songs, it gives me a chance to reflect on my own life, and it always pushes me to do better. And I love her personality even more than her music. I don't know her very well, but from the short clips I've seen of her with her family, I really like how she goes about her business. Forget faking it on social media; she is most definitely the most real of the real female celebrities. Plus, I look up to her because of her love life. She has a happy home. And I desire the good parts of her love life with Adekunle Gold."
Adunni - Adesua Etomi-Wellington
This young woman loves Nollywood's poster lady because of her confidence in her body and her relationships with her husband and her friends, which, according to her, cause her to reflect on the one she shares with her own friends, "the soul sisters," as she calls them.
In her words, "I really admire Adesuwa because she loves her body just the way it is; she didn't use weight-gain supplements or have BBL surgery. She's also committed to her career and marriage. She's natural in every way. I respect and look up to her because she inspires me in every way. Is it her look? Is it her body? Is it her compassion? Is it the way she supports her family and friends? Everything about her is refreshing. Her relationship with Bisola and Bimbo is so sweet that I imagine that they are my soul sisters."
Anjola - Omotola Jalade-Ekeinde
Anjola loves the Nollywood actress, model, and philanthropist because she has appeared in several Nollywood films, and despite that, she hasn't relented and continues to hone her craft and improve in her delivery.
She said, "She's stunning and incredibly sexy, but she's also a fantastic actor. Having spent decades in Nollywood, she's still one of the poster girls for expressive acting and top-notch delivery of any character she's playing. I look up to her because she's very reserved, loves her family, and doesn't concern herself with drama that doesn't involve her. I also love how over the years she has evolved herself and her craft, and she has definitely earned herself a spot among the greats of Nollywood."
Eniola - Dr. Ngozi Okonjo Iweala
Eniola is a lawyer in the making, so it is understandable when she mentioned the Director-General of the WTO as the "celebrity" she looks up to. Lawyers are serious people.
According to the young and blooming lawyer, she looks up to Iweala because of her trailblazing record and her excellence in her field.
In her words, "I love Dr. Ngozi Okonjo-Iweala because she has a track record of excellent performance in both local and international positions that she has held. She rose to some challenging positions despite all odds. Her successful profile is worthy of emulation. Despite being a Nigerian, she became the first female director general of the World Trade Organisation (WTO). The fact that she exudes so much confidence in whatever she does and has always stood by her faith and principles makes me love her even more. She can be said to be part of those who brought the idea of "women in politics" to the limelight. She has defied the status quo for women and thus deserves to be emulated. I really want to be like her or even better."
From the above-mentioned names, it is clear that the impact of women on society cannot be overstated. Despite the diversity in the fields and kinds of women mentioned above, one thing is clear: these women who have broken barriers and paved new paths in their respective fields prove that the power of women is undeniable.
Let's celebrate the amazing women who have come before us and those who will undoubtedly continue to inspire us for years to come. Happy International Women's Day!
pulse