This is the streaming platform's first original animated series.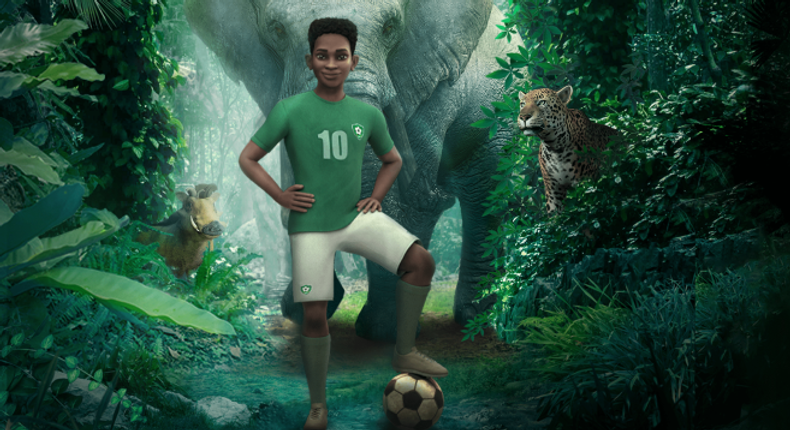 Showmax is bringing Augustine Jay Jay Okocha's childhood to live in a new animated series titled 'Jay Jay: The Chosen One.'
Deadline reports that the show is a reimagining of his childhood, which will follow an 11-year-old Augustine as he dreams of representing his school at a prestigious football tournament with a team made up of his group of friends.
Along with his passion for football, the 13-episode series showcases his love for the animal kingdom, which bestows superpowers on him in return for his fight against illegal poaching.
Commenting on the series, the soccer legend said, "I'm honoured to have an animated series that reimagines my childhood. Jay Jay: The Chosen One is going to bring back good childhood memories as well as inspire young children who have dreams to be football players. I'm excited about the show and grateful to Showmax and the production team who worked hard to bring it to life."
Fans of the game know that Jay Jay played for the Nigerian national team between 1993 and 2006 and led the country to Olympic victory at the 1996 Atlanta games. He played in three World Cups, the English Premier League, and eventually Hull City before retiring in 2008. He is regarded as one of the Nigeria's greatest player.
The series is voiced by a Nigerian cast led by Prince Unigwe who plays Jay Jay. The cast includes veteran actor Chinedu Ikedieze of the hilarious 'Aki and PawPaw', Samuel Ajibola, Eric Obinna, Mena Sodje, Lexan Peters and Pamilerin Ayodeji.
Sharing his thoughts on the project, Yolisa Phahle, CEO of Showmax and Connected Video at MultiChoice, said, "We are so excited to bring this first-of-its-kind series to our streaming audience. Not only is Jay Jay: The Chosen One another locally inspired Showmax Original, it marks the beginning of our adventures in animation. This is a show we believe will find audiences globally and shines the spotlight on yet another world-class African achiever that we hope will be enjoyed by kids and the entire family."
'Jay Jay: The Chosen One' is produced by Nihilent Limited in partnership with the production studio 5th Dimension as well as animation studio I-Realities. The series soundtrack features music from popular Nigerian singer and vocalist, Waje.
On working on Showmax's first original animated series, LC Singh, Nihilent Limited's director and executive vice chairman, said, "I always knew that creating a sports-based animation series for kids would be challenging and rewarding at the same time. The amount of work that goes into every single frame is immense, but seeing the final product come to life makes it all worth it. I'm grateful for the opportunity to bring this vision to the world and to collaborate with such talented Nigerian voice artists, animators, and Showmax."
'Jay Jay: The Chosen One' is available exclusively on Showmax.com from April 6, 2023, with new episodes every Thursday.